DEVRY SMITH FRANK — David is delighted to announce that he is joining Devry Smith Frank LLP ("DSF") as a lawyer in the commercial litigation and insurance defence departments. David is returning to DSF, having previously served as both summer student and student-at-law.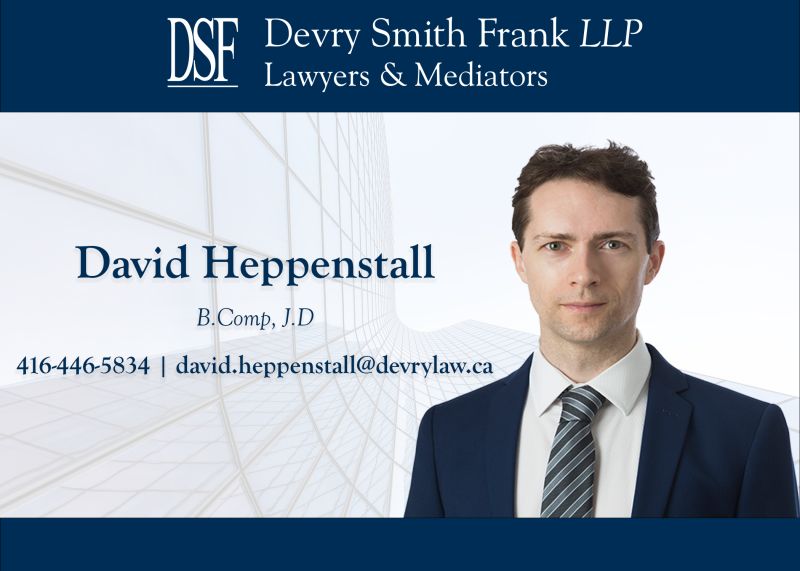 David brings to DSF a breadth and depth of talents and skills from his prior career and beyond.
Law is David's second career, his previous being in computer science. For most of his technical career, David developed solutions for complex customer issues at Dell EMC. On multiple occasions, he received excellence awards for his focus on customer satisfaction, dedication, passion, and initiative. David's broad experience with enterprise computing informs his legal practice.
David is a national mooting champion. At the 2021 Adam F. Fanaki Competition Law Moot, David and his team won overall Best Faculty. Additionally, he also won Best Factum and Best Oralist awards—demonstrating command over both written and verbal advocacy.
David is a keen public speaker. He is a member and past president of both the Tuesday Literary Club and the Ruskin Literary and Debating Society. At the Tuesday Literary Club, he is a recipient of the Harry Fairhead Award of Merit. At Ruskin, he is a recipient of the George Sunderland Prize and the Ian Galt Award.
David is an athlete, team leader, and adventurer. He participates in triathlons, captained two floor-hockey teams, portaged the backcountry in northern Ontario, bicycled solo 600 kilometres across southern Ontario, hiked Mount Kilimanjaro, and is a hang glider pilot.
David is delighted to return to DSF, the firm which shaped the earliest days of his legal career. He is excited for what is to come.